BARBARA BILLINGSLEY
(BB for short)
Barbara has been a regular presenter with the programme "Coasting with BB". Currently building a new house, she has temporarily opted to fill in for overnight programmes when needed.
Barbara is a baby boomer who grew up after the Second World War into the 1960's in Liverpool England. She experienced the excitement of the original Merseybeat era, often dancing in the Cavern to the Beatles and all the other great Liverpool groups. She was in the front row of one of the last Eddie Cochrane concerts before his tragic fatal accident in England.
"Coasting with BB" specialises in 50's and 60's music with lots of anecdotes and information about the era.
I grew up surrounded by a variety of music at home. I learnt the keyboards and played at church wedding ceremonies.
Early 2017, I found 88.7 Coast FM and from that moment, I was hooked on community radio and what it offers.
I applied for a Presenters Course, passed and soon thereafter, I had my first show in the morning at 3am.
I feel being on Coast FM offers me the opportunity to share my love of music. I enjoy the interaction with listeners when they phone during my show. My current program is called "The Music Machine" and it excites me to play music ranging from the 50's through to the 90's.
 I am passionate and excited to present each week and challenge myself to bring something different with an artist that you may not have heard previously or covers of well-known songs. Music is an international language.
I have been presenting the Sportscap show for around 17 years and have a love of all sports with my number 1 being cricket. I have previously been on the Coast FM Board and am currently on the Adelaide Turf Cricket Board as well as African Charity Voard Tanzeed.
I am married with 3 kids and my favourite Music Genre is 80's.
I love to travel and catching up with friends.
Harald Lindemann
Tuesday 10pm to 11pm Blues Before Midnight
I present Blues Before Midnight on Tuesdays 10pm-12 and co-present Motochat, a discussion show about motorcycling and road safety, on Wednesdays 7-8pm.
I am a retired teacher and enjoy touring by motorcycle as often as I can. I have toured in India, Peru, Bolivia and New Zealand as well as extensively in Australia.
I live with my dog, a kelpie/border-collie and enjoy reading a lot, and second-hand bookshops can always see me coming their way.  My musical taste is eclectic, ranging from classical and opera, through to jazz and blues, folk and rock and roll (with a preference for early and 70s rock), but I will listen to anything that sounds interesting, has a beat and can be whistled.
Mel Tickle
Sunday 9pm to 11pm – A Touch of Jazz
Mel Tickle (aka "The Godfather of Groove") presents "A Touch of Jazz" each Sunday fortnight 9pm to midnight.
The show presents jazz in all its various styles –early New Orleans mainstream/traditional, the smooth stylings of 60's cool/bebop and the work of contemporary performers.
Mel's has a deep musical heritage. All his family were all performers and appreciators. Growing up he was exposed to a broad range of musical styles, genres from classical, jazz, gospel, music hall, classic rock, pop, and soul and as such he is the quintessential Renaissance man/music lover - he is indeed - 'A Man for All Music'.
Mel co-founded and still performs around South Australia in the busy "party music" trio "Groove Brothers and Soul Sister".
The combination of performance experiences with over 30 years of public speaking training and presentations with Rostrum SA provides Mel with a strong skill base for radio presentation.
Eddy Van Reeuwyk
Sunday 9pm to 11pm – A Touch of Jazz
I was born on the 3rd of September 1931 in Rotterdam in The Netherlands and migrated to Australia in November 1955. Since then I have always lived in the southern suburbs of Adelaide. I worked in the sales and service of domestic appliances, specializing in dishwashers and air-conditioning. With my wife Annie, I have three lovely daughters and five grandchildren.
I have been following jazz since 1950 and in 1985, was pleasantly surprised to read an advertisement for people interested in setting up a public radio station. It was to be set up at the TAFE College at O'Halloran Hill. There was minimal jazz on the radio in those days and this was an opportunity to fill that gap.
I became a founder member of the fledgling station called Sky-FM and three months later I found myself in a makeshift studio in Kuitpo Forest recording a jazz programme. I was terrified! The first transmission took place from a caravan, using reel-to-reel and VCR tapes.
I became President of the station during the early 1990s when the official opening took place.
I still have some cassette recordings of the opening and of interviews with such notables as Don Hopgood and James Morrison. After twenty years with the station I still get tremendous enjoyment presenting our weekly show A Touch Of Jazz each Sunday night from 9pm till midnight.
Zora
Friday 10pm to 11pm – Pump up the Volume
Hello ! I've been a member and presenter at CoastFM since 2014. I host Pump Up The Volume on alternate Friday nights from 10pm to midnight. The music I play is mostly influenced from my passion for blues and rock across the decades from the late 60's onwards.
Some of my favourite musicians and bands include Stevie Ray Vaughan, Jimi Hendrix, Deep Purple, Cold Chisel, U2, Eric Clapton, Santana, Dire Straits, John Lee Hooker, Muddy Waters, BB King, Joe Bonamassa and the list goes on.
If you enjoy a variety of rock and blues from the late 60's onwards, tune in to Pump Up The Volume on Friday nights at 10pm. I look forward to your company.
"Life seems to go on without effort when I am filled with music" George Eliot
Bob Lindow
Monday 2pm to 3pm – My Wonderful World
Howdy, I'm Bob Lindow. I am a volunteer at Coast FM, and I love it.
As well as doing a "day job" in the office on Thursdays, I present My Wonderful World at 2pm on Monday afternoons, where I play great music from wonderful artists such as Mark Knopfler, Paul Simon, Jackson Browne, Bonnie Raitt, John Fogerty, Emmylou Harris, Elvis, CSNY, Paul Kelly and lots more. A little bit of country, but not too much.
I also do Lets Get The Party Started on a 6 week roster on Saturday nights, playing 60s & 50s rock'n'roll records that I grew up with. It is so much fun. Please join me on air anytime, I'm sure you'll love the music.
You may even hear The Beatles (OK, I admit it – I'm a Beatles tragic!!), but I only play the tracks no-one else plays. Cheers!
Carin Montgomery
Midnight Mix Monday 1am to 3am
Having grown up as a teenager in the 70's early 80's, this is my favourite period of music.
Since becoming involved with Coast FM in 2012 and listening to the music I have developed a love of the 60's, especially the Mersey beat which includes the Beatles.
If you want to hear a good variety of music from the 60's to the 80's with a little bit of 90's and 00's thrown in then listen to the Midnight Mix at midnight on Sunday night till 3am Monday morning.
If you want to hear a good variety of music from the 60's to the 80's with a little bit of 90's and 00's thrown in then listen to the Midnight Mix at midnight on Sunday night till 3am Monday morning.
Russell Gallman (Roosta)
Wednesday 4pm to 6pm
Hi everyone, I am a retired nurse living near the city with my wife of 40 years, Sarah. We have 3 children and 3 grandchildren to keep us busy along with our volunteering and other interests. I have a passion for most sports especially golf, motor cars both classic and moderns, travel (bad luck here), gardening at home and of course music. I have very eclectic music tastes, from musicals like Camelot and Cats to classical from Mozart or Puccini, early rock and roll to the new wave of the early 80's.
The community involvement to which this station aspires makes me feel a part of something worthwhile, my current show, the Wednesday Drive at 4-6PM is a great way of giving something of myself. Join me on the way home from work for a varied mix of 1960s 70s and 80s popular music. I plan to play the soundtrack to our lives.
Ian Ryan
Monday 10pm to 12pm – Lost in Time
I was originally from Eyre Peninsula, living mostly at Edillilie, Tumby Bay and Whyalla. I finished my schooling in Adelaide in 1971.
My employment included life assurance, finance, furniture retailing and the Federal Public Service. I retired in 2016. I am married with 3 children and 4 grandchildren.
I joined CoastFM in March 2001. Lost In Time started in Jan 2001 and we have never failed to present a show since.
Gary Clarke came on board in the mid 2000's and is a wonderful co-host.
We enjoy playing almost all styles of music from the modern era, including many local artists. We take requests from our listeners. The rest of the show is based on events in music history, related to the particular week in which we are broadcasting.
We try not to repeat songs in order to maintain a freshness to the show, but repeats are sometimes unavoidable. Why not join us on Monday evenings for a couple of hours of fun at 10:00 pm Adelaide time.
Anastasia
Monday 8am to 11am – Monday Breakfast
Hello, I'm Anastasia Debono. I volunteer at the best community radio station in the greatest city in the world.
Adelaide born and bred just like Frog Cakes, I'm a long time Coast FM listener, completed Coast FM's presenter's course in 2019 and have been passionately producing programs ever since.
When I'm on-air I like to play easy listening classics and Vegas lounge favourites by Dean Martin, Frank Sinatra and Bobby Darin. I enjoy playing vinyl records both at home and at the station.I love Johnny O'Keefe, MotoGP, Eurovision, Elvis movies, my dog.
Keep supporting Adelaide's 88.7 Coast FM. It's the intelligent choice for the music lover, and you seem like a smart cookie to me. You're here, aren't you?
Coast FM is MY radio station and it's YOUR radio station.
Barbara Webb
Sunday 4pm to 6pm
I host 4.00 - 6.00pm every Sunday afternoon. First introduced to Coast by my son, Chris, from early days at O'Halloran Hill, and have been a listener ever since.
I am very passionate about music, and must have it in my life each day. I have been in nursing for most of my working life, and am still employed in acute nursing.
I enjoy most genres of music from early '40s to current day, but the '50s, '60s, country, stageand screen are my most popular.
I play good varieties of these on my program and do take requests for your favourite artists/track. I love to hear from listeners and feedback is important as it lets us know what you want to hear on Coast.
I am very proud to be a presenter on Coast FM and I hope to continue for many years. It's great to be able to touch so many people in our community through our radio station and I thank you for allowing us as presenters to share your life and your day.
Brenton (Monts) Montgomery
Thursday 4pm to 6pm
I have been on-air at Coast FM since November 2012. Music has always been a large part of my life, and I enjoy researching artists and learning about their music and their life, which is very useful to add some trivia that our listeners will find entertaining and interesting.
Please join me every Thursday from 4.00pm to 6.00pm on 'THURSDAY DRIVE', for 2 hours of bright and bouncy Pop & Rock 'n' Roll music from the 50's to the 70's. Elvis, Roy Orbison, Gene Pitney, Del Shannon, The Beatles and all the big name British Invasion artists – you'll hear them all, and many more, as I DRIVE you home every Thursday from 4.00pm.
For more info about my program, please go to the Program Guide on the Coast FM website.
Peter Benn
Saturday 4pm to 6pm
Peter's career in broadcasting spans over 20 years. He commenced his radio journey in 1976 when he attended the Vaughan Harvey School of Broadcasting at 5KA. This ultimately led to his first job in radio at 5RM in Berri. Radio was all he ever wanted to do and to be successful in realising his dream was very exciting and satisfying. Peter has worked at several radio stations since then including 5SE Mount Gambier, 5PI Port Pirie, 5KA, 5AD, 5AA and LIFEFM in Adelaide. He has been very fortunate to have had the opportunity to serve in a variety of roles in broadcasting, including announcing, programming and management. Peter left radio in 1998 to pursue other career options, but it was always difficult to shake off the " radio bug ". He completed the Coast FM Presenters Training Course in 2015 and is now back on the airwaves. His music tastes? He is a 70's child but if the music is good, he'll play it.
Les Sobieraj
Saturday 9pm - Midnight
Hi, I'm Les Sobieraj and I've been a presenter at Coast FM since March 2007. Every Saturday night from 9pm to midnight, I present the 'Party Mix Request Show' with my very good friend and fellow Coast FM presenter, Dave Hall. Call us on 8371-1000 and request your favourite party song. Our aim is to present all your party music favourites in a three-hour mix. So tune in for music that will get you tapping your toes, clapping your hands and singing along. Saturday night is party night at Coast FM.
Tim Colliver
Sunday 8.30 to 9pm
I host Bible Spotlight from 8-9pm every Sunday. Every week I have a guest interviewee or two to present on a relevant and practical Bible topic. If you're new to the Bible or a seasoned pro I'm sure you'll enjoy our discussions and gain a deeper insight into what this book means for today. I look forward to your company and don't forget to call if you've got a question or topic suggestion!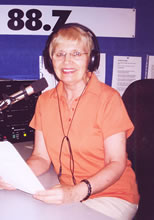 Ludmila Maystrenko
Sunday 6pm to 8.30pm
I love music of any genre, so join me on Sunday nights from 6 to 8 p.m. for 'Relaxing Interlude'. Music has no era as long as it's soothing to the ear and relaxing to the soul. Sharing it with listeners is my goal.
Roger Davey
Sunday 6am to 9am
Hi Coast FM listeners, I'm Roger Davey and I'm very happy to be a part of this great community radio station. I joined Coast FM in 2014, and graduated from the presenters training course in early 2015. I'm the presenter of the "Sunday Breakfast" program, on Sunday mornings between 6 AM and 9 AM. I love most genres of music, and love coming in and playing it each week for the enjoyment of our listeners.
Brenton & Shiona Marks
Friday 9am to Midday
After hosting the popular Breakfast Program, Good Morning Good Morning for 13 years, Brenton and Shiona made the change to Friday Coast Magazine in March 2019. Tune in for 3 hours of fun in this program that looks outside the square. Featuring the F word ( for fun Friday ) you will enjoy music that is just a little different, Brenton's Odd Spot, Radio Plays, Shiona's F word for the day, lots of information on free events in our beautiful state and interviews with charities and events not in the mainstream. Listeners love the banter which obviously comes easy with 2 people comfortable with each other although Brenton does enjoy his 3 hours of power when he is in control (or so he thinks). A fun show on a fun radio station. Voted as one of the best in our great state. Tune in and enjoy community radio at its best. Adelaide's Coast FM 88.7
I'm Christine, your host on The Orange Blossom Special every Sunday 2pm to 4pm. As a dancer I love the Lindy Hop and Rockabilly and that is reflected in the music I play, from the 40s and & 50s up to today, in the style of those eras. My first record album, given to me in 1964, was Rob E.G's Hawaiian Guitar. I loved the record then and still do. At that time I was a member of the Rob E.G Fan Club. I was introduced to Coast FM by 'The Hound Dog', Bob Shannon. Bob had this time on air each Sunday and was well known for promoting Adelaide talent. I am proud to be able to continue what Bob did so well. I love playing Rockabilly, Swing, Blues and Jump Blues bands and occasionally have them in the studio live to air.
Gary Clarke
Monday 10pm to Midnight
I started with Coast when Ian Ryan was kind enough to invite me to accompany him on Lost In Time on Monday 10pm till midnight. Between the two of us we cover music of all types and eras, with particular emphasis on b-sides, album tracks and information about events of significance in rock history. I am an avid reader, love SANFL footy and (tongue firmly in cheek) considered by some to be a beer connoisseur. I'd like to finish with something profound but can't think of anything so I'll pilfer a quote from Aussie ex-cricketer Doug Walters - "there's no such thing as a bad beer, just that some are better that others".
John Morrissey
Wednesdays 2pm to 4pm
What can be said about this man who presents The Big Beat every Saturday at 4pm. A great variety of music from the past including rock 'n' roll. Have a listen to The Big Beat on Saturdays at 4pm, you won't be disappointed.
Graham Baird
Tuesday 6am to 9am
Married to Judy with three adult children and five "grandies". Retired secondary school teacher (predominately P.E.) - still doing occasional relief teacher days and passionate about sport, but these days mainly restricted to cycling. Busy keeping up with family, volunteer work and Church commitments. Music has always been a passion from early teenage years - drummer for a number of 'gospel groups' and rock bands - currently the drummer for the worship band at my Church. You can wake up with Graham every Tuesday on the Breakfast show from 6.00am - 9.00am.
Steve McNally
Tuesday 9am to Midday
Steve McNally has been involved with community radio since 1984 and since the mid 90s has hosted Tuesday Coast Magazine on Coast FM.....he was also part of Adelaide commercial radio between 1985 and 1993 working at 5AD,5KA,KA-FM and SA-FM.... he has run his own mobile DJ Business since 1977 which caters for all types of functions including Karaoke...Steve has 2 adult sons, a wonderful partner and loves golf, travelling, football, movies, television, good food and wine.
Geoff Groth
Tuesday Midday to 2pm
I first joined CoastFM in 2003 and in 2005 did the Presenters Training Course. I started in September 2005 on a Sunday afternoon 1-2pm and in 2014 moved to midday on a Tuesday. During my time at the station, I have been on both the Program Standards Committee and the Training Committee. Currently I'm the Chairman of CoastFM. Program wise I run the "Harmony Street Café", full of interesting staff all dedicate to bringing you the best form the menu of the forgotten third of "Rhythm & Blues" namely the group vocal harmony sound known these days as "Doo Wop"
Ray Hann
Wednesday 3am to 6am
Rob McLennan
Wednesday 9am to Midday
In March 2015 Rob retired from Wednesday Breakfast after 16 wonderful years and commenced presenting Wednesday Morning Magazine in June 2015. Rob continues to play music primarily from the 60s and 70s which he is passionate about and includes lots of vinyl. In this new time slot Rob is thoroughly enjoying chatting to lots of interesting folk and a highlight in the first hour is talking to a different Coast Presenter each week which is proving to be very popular.
Bevan Wilckens
Wednesday Midday to 2pm
Host of Those Were The Daze, Wednesday's at noon. The music I most like to play is from the mid to late 60's. However I don't think there is an era or genre that does not have something to offer in great music. I arrived at CoastFM in early 2011 after 40 years as an Engineer on cargo ships. I had plenty of time to listen to music and hope that my knowledge of same is evident on air.
Michael Peters
Wednesday 6pm to 7pm
Michael is our youngest presenter at Coast. Join him , with Mandi, every Wednesday night from 6.00pm - 7.00pm for the Sound Cage.
Robert Cortazzo
Wednesday 10pm to Midnight
Hi everyone my name is Robert Cortazzo and welcome to my page. I started at 88.7 Adelaide's Coast FM in around September of 2019. I had a calling to do something positive with my life after I retired from my work of 39 years with Telstra as a Duty Manager/Technical Expert which I have very fond memories and have made long life friends of which I still see today often.
I have a very strong passion for music having grown up with it all my life. In my youth I was in the usual bands that a lot of us started and then stopped. Probably a good thing in my case but I still had an affinity for music and bands whether they were local or international. It was great just being able to go out there and listen to them. I love music from 70's and 80's particularly from some of my favourite bands being Yes, Supertramp, Genesis, The Beatles, The Eagles, just to name a few. I also have some favourite songwriters and artists, namely Jackson Brown and Warren Zevon. From Australia I really like Paul Kelly and Richard Clapton. You probably will hear a lot of these during a lot of my shows dependent of course on the theme.
At present I go by an alias; "Mr. Movies" on my "At the Movies" show which I present every Wednesday night between 10pm and Midnight. That's right I also have a passion for films. I noticed that Adelaide's Coast FM was missing something and I decided that a Movie show playing songs from the movie soundtracks would be a great genre to incorporate in the weekly program and so here I am Mr. Movies from At the Movies presenting songs and soundtracks that you may be all familiar with and perhaps some that you are not, with a movie review every week at 10:45pm.
Gary Cool
Wednesday 8pm to 10pm
Join Gary every Wednesday from 8.00pm to 10.00pm when he presents " THE BEAT GOES ON" Great music for all the listeners and featuring Gary's bright personality and obvious love of music which comes through on the airwaves. Give him a ring on 8371 1000 and let him know you are enjoying his show.
Belinda Wade
Thursday Midnight to 3am
Gaenor Roeger
Thursday 3am to 6am
Bruce Hartley
Thursday 6am to 9am
Bruce was a police officer for 50 years and in those years spent time on 5AA, ABC and FreshFM radio answer questions and providing information to listeners. On retirement he now drives for the Cancer Council and Onkaparinga Community Bus. His experience and ability to communicate are valued in his volunteering roles and of course on air at Adelaide's CoastFM. Bruce presents Thursday Breakfast to start your day playing music from the 60's 70's and 80's with great memories and wonderful music that we all grew up with and still enjoy. His 'welcome to the day' program includes Trivia, On This Date in History and of course Quizzical. A music quiz that listeners love to listen to and answer a question to get their favourite music track played on the following week's program. Bruce has been at the station since 2018 and previously co-hosted Thursday Coast Magazine with Dave Hearn. And now kicking off the bed covers really early to do his breakfast program from 6.00am to 9.00am You can start the day with lots of memorable music tracks with his fun and enjoyable style along with your first cup of coffee or tea. If driving in the car there are plenty of tracks to sing along to on your journey.
Dave Hearn APM
Thursday Coast Magazine 9am to 12 noon
Dave Hearn has been a member and presenter at Coast FM for over 20 years. He currently presents Thursday Coast Magazine 9am to 12 noon. Dave is currently a member of the Board of Management and has served on the Board and the Program Committee over the 20 years. Dave was a Police Officer in South Australia for 40 years and in 1998 was awarded the Australian Police Medal (APM) for his services to Road Safety in South Australia. Dave is passionate about his show and presents important Community information, interviews and music. Dave is now widowed but is blessed with 3 great children and 6 grandchildren and is very thankful for that. Please join me and become part of the Thursday Coast Magazine family.
Mark Constable
Thursday Midday to 2pm
Mark Constable has been with Coast FM since 1990. He has been an avid record and music collector since the age of 14 and also studied both pop culture and history of the 50s, 60s and 70s music. He also enjoys music from the 80's. His program Beatbox is simply singalong pop and rock from the 50s to the 80s plus some long lost hits and rarities mixed with a little pop trivia as well. If you like Hits and Memories you can sing along to then please join Mark between 12 Noon and 2.00pm every Thursday afternoon on Coast FM. You are welcome to call on 8371 1000 and share your music memories with Mark during the program and he will play your request if you have a favourite song you would like to hear from the past.
Judith Waugh
Thursday 2pm to 4pm
Judith grew up in the New England area of Northern N.S.W. not far from Tamworth, surrounded by country music. As a teenager she moved to Sydney and joined the folk club circuit. In late 1991 Judith was invited to do an interview about her band " Key Country" at Coast FM which at that time was an aspirant station on a temporary licence. Already doing a course in Sound and Audio to assist with the PA for her band, Judith was smitten with radio. She did the Training Course, joined as a volunteer, and never left!! Judith started on Saturday Breakfast, then Wednesday Coast Magazine before starting her own show on Thursdays. ON THE BORDER was an ideal choice to name the show and offers the opportunity to play almost any genre of music. Judith treasures the many phone calls she gets every Thursday and enjoys promoting local talent and community events. Join her at 2.00pm every Thursday for 2 hours of great music.......
Malcolm Hill
Thursday 8pm to 10pm
Hello there, I'm Malcolm Hill and I present Thursday Deluxe 8 - 10pm. It is not a request show. It is based on a simple but strong belief that I have.. I believe there is only two kinds of music. Music you like and music you don't. As a result I only play music with a beat, that's what I like. Favourite artists include the Stray Cats, Southern Culture On The Skids, The Detonators, The Satellites, Daddy Cool, The Doors and Cream to name just a few. So if you like music that moves, this may be a good one for you to tune into. I know I like it.
Dave Hall
Thursday 10pm to Midnight
Deb Langridge
Friday 3am to 6am
Pamela Smith
Friday 6am to 9am
I did a radio Presenter's course in 1995 but life got in the way, and I didn't go on with it. When I heard about CoastFM having courses I thought now is the time to try again. I am so glad I did! I love researching the music, especially finding new artists and songs I didn't know. It has really broadened my music knowledge. Music Beat was my first show in March 2021 from midnight to 3am on Fridays then luckily, I was given the chance to be the Friday Breakfast Presenter 6am-9am in September, which I love doing. I play mainly 60s to 90s music, including Blues, Rock n Roll, Rhythm and Blues, Pop and always a French song or two.
Jim Probert
Friday Midday to 2pm
I grew up with the music of the Fifties, and listened to the Hit Parades at every opportunity. I loved the music from the likes of Guy Mitchell & Nat King Cole, Patti Page & Teresa Brewer, and all the rest of those great, great performers. Then after seeing Johnny O'Keefe at one of Lee Gordon's "Big Shows", I was switched on to rock'n'roll, and started my own band, Bobby James & the Esquires. These days I satisfy my passion for good music by being a Presenter on Coast FM. If you love good music from the Fifties, right up to the present, and especially the great songs of the Sixties & Seventies, why not tune into my regular Friday Midday program, "Memory Lane"?
Zeljka Klindzic
Friday 4pm to 6pm
Hi, I'm Zeljka and I take great pride in presenting " Friday Drive " for your listening pleasure. I have been at Coast for 4 years and enjoying every minute. Previously I have worked in the entertainment business on stage, television and film. You can join me every Friday from 4.00pm to 6.00pm for some great music. I put a lot of effort and preparation into creating a show that will be enjoyable for every listener. The music I play is sourced from the 50s to the 80s with a few of the best songs from present day. Please tune in and have a listen. I look forward to your company....
Barry & Pamela
Friday 6pm to 8pm
We have both been involved with various bands and the music scene/industry here in SA since our teenage years and grew up with the sounds of the '60s and '70s. Our other love of the early '50s eventually led us to our current passion for the raw "roots" music that is known as "Rockabilly" and it's great to see and hear many young bands/artists all around the world are still performing and recording this roots music in the style as it was done in the early '50s. When we are not working, teaching Rock 'n' Roll, or cruising around in our Hot Rod, you can catch us on air here at Coast FM every Friday night between 6pm - 8pm on the "Boogie Shack" for 2 hours of "Red Hot" Rockabilly.
Jim McInerney
Saturday Midnight to 3am
My musical life adventure came from listening to the radio during the 1960's, seeing the interstate bands at local dances and enjoying the best touring super groups while experiencing the best Australian bands at the Sunbury Rock Festival in the 1970's. From a time when everybody bought a guitar hoping to be in a band that made it big, when vinyl was king now to the digital age of rock music. I hope to bring back the memories of those times to the listeners and introduce the new bands coming through on the scene.
Rob Cooper
Saturday 3am to 6am
I'm Rob Cooper, a recent addition to the Coast FM team and I present a show called One Foot In The Groove, between 3 and 6 am on Saturday mornings. Lucky to have lived and worked overseas for more than a quarter of a century, I've grown up influenced by the music of a number of cultures and from eras ranging from the fifties to the current decade. I try to share that musical diversity each week, often showcasing acts that I've seen perform live and there's been quite a few over the years.
Joy Hailes
Saturday 6am to 9am
I have eclectic musical tastes! My love of music ranges from genres such as classic rock, pop, celtic, bubble gum, country and some blues from the 60's to the 80's. I love romantic ballads and folk songs that tell a story or paint a picture: songs that transport you to different eras and times in history. Favourite Artists? Too many to list, but Paul McCartney, Hermans Hermits, Eric Bogle and Paul Kelly are some of them. Join me, Joy Hailes, on Adelaide Coast FM, 88.7 every Saturday at 6.00am for Breakfast at Joy's Place.
Peter & Jill Metzer
Saturday 9am to Midday
Hi, Peter here I am a Coast FM tragic and love presenting music from the fifties to the present. I am a retired Tax Agent and now doing what I love, that is bringing music to the radio. My lovely wife Jill is on air with me keeping me on the straight and narrow.
Dan the Bald Man Nikolavcic
Saturday Midday to 2pm
Hi I'm Dan The Baldman, and you can catch up with me every Saturday at Midday right here on Adelaide's Coast FM 88.7 for Coast Hits.
My aim is to keep you well entertained on your Saturday afternoon with middle of the road Top 40 hits. Here are some of the artists you'll hear - The Beatles, The Rolling Stones, Herman's Hermits and The Hollies, to name just a few.
You will hear hits and memories from the 60s onwards, and like me, I am sure that the music will bring back some great memories for you.
I truly hope you can join me for an afternoon of Adelaide's best music variety. Tell all your family and friends about Coast FM 88.7
David Cook (Cookie)
Monday 3am to 6am
Born in Liverpool UK. My only claim to fame is that I sat in the same seat used byPaul McCartney when he attended my school some years earlier. I was a Beatles fan from an early age, but I do love most music from the 50's to the 90's I came to Adelaide when I was 14 and completed my schooling here.
Loved going to the various dances around Adelaide each weekend, St Clair, Fiesta Villa, Princeton, The Octagon etc. At 19 I left Australia and lived for 10 years in UK and South Africa, before coming back to Adelaide to live. Judy and I moved to Brisbane in 1995 and lived and worked there until 2016 when we decided to retire back in SA.
We keep ourselves busy volunteering with Kiwanis Club of Glenelg and other charities. And now of course there is Coast FM which is fantastic. We have 7 grandkids scattered around the world who are the joy of our lives, and who we love to visit whenever we can.
Mandi Faerie
Tuesday 8pm to 10pm
I am very passionate about the local and Australian new release music to support the local artists that don't really get airplay anywhere other than Community Radio.  The name of the show has also evolved to The Sound Cage Live Sessions as all the interviews are live to air not pre-recorded. During the lock down I was doing a massive amount of live interviews for live streaming platforms as artists couldn't do physical gigs.
I am also calling myself the Cheeky Fairy these days as some people really don't understand that Wicked Fairy doesn't mean nasty.
I play 85% Australian music with 50% female and with around 35% new Indigenous artists on the Scene.
I love music from a very early age due to my family being very musical - so radio seemed a great place to share good music.
I have also done a stint of around a year interviewing and filming for music TV.
Tune into Roy every Monday between 9 a.m. - 12 a.m. for great music, interesting interviews and musical history of the day and finishing off with the top 3 singles for this week from the 50s, 60s and early 70s. Roy has a passion for music and has always wanted to be a DJ from an early age and now 40 years on he is "living the dream".
Hi, Dave Gabel here, letting you know that my program, "The Chocolate Box", is on air each Monday midnight to 3am Tuesday. If you have a favourite song from the 60s, 70s or 80s, then it's not likely you'll hear it often on "The Chocolate Box". There will be lots of lost and forgotten music from bands that never quite made it, strange and wonderful music from around the globe, and every now and then maybe an old favourite mixed in. Ill bring you music that's probably never been played on Adelaide radio before, and sometimes a listeners' request or special set thrown in for good measure. I'll also take your requests and dedications, so give me a call during the program on 8371 1000, and as I always say, "If I have it I'll play it, if I don't, I won't! So if you're a night-owl like me, and you're up late on a Monday night and want to hear something different, tune in to "The Chocolate Box" from Midnight to 3am Tuesday mornings, on 88.7 Adelaide's Coast FM.
Gary Clarke
Monday 10pm to Midnight
My name is Gary Clarke and I have been on air at Coast since 2006 and did the presenters training in 2007.
All of that time I have been co-presenting Lost In Time with Rhino Monday nights 10pm-midnight, and we've still never got one right ha ha. A creature of the night.
I have also done over 200 fill ins (occasionally in the daylight). Still a keen reader, love my ale and the mighty Woodville West Torrens Football Club (family too).
Michael J
Monday Midday to 2pm
I first tuned into the world of commercial music via a crystal set given to me for a birthday present.
That was probably around 1960 and I have been a music buff ever since.

I volunteered with the St John Ambulance through the 70's and early 80's.  I also worked as an Enrolled Nurse during this time.  I went to Sydney and worked in the money markets from 1984, returning to Adelaide with my own business until the late 90's. I spent 2 years in Broken Hill and 6 years in Adelaide involved with the changes that occurred in the energy markets. I am now semi-retired with a small online business.

I joined Coast FM in April 2017 and I am living a life long dream to play music and present my own program. I used to visit 5KA in Franklin St when I was about 15 hoping that I would one day be noticed and eventually become a radio presenter. Coast FM has made that possible and I hope you enjoy listening to my program, Monday Lunch with Michael J, Monday's midday - 2pm.

Favourite Australian Singer - Tina Arena
Favourite Australian Band Acca Dacca

Favourite International Singers - Neil Diamond/George Harrison
Favourite International Bands - The Beatles/The Rolling Stones
Ron Bellman
Monday 6pm to 8pm
Ron hosts the Adelaide City Life program at CoastFM every Monday from 6pm to 8pm. Ron grew up in Elizabeth being of Northern English decent and having a life long interest in all kinds of music and playing in many bands including being lead vocal in Adelaide party band "Rock the Casbah". Throughout his life he has enjoyed singing and playing the drums. Ron brings his love of music to his Adelaide City Life program and relishes the opportunity to interview interesting local people from musicians to politicians in Adelaide and afar who often have amazing life stories to tell. Ron returns to the airwaves after having a history with radio, kicking off with RadioActive, a student radio station he formed with his life long friend Gary Lewis. Both Ron and Gary and others then went on to form a commercial holiday station called Radio Taupo. During these radio years, Ron was also studying law at Victoria University, Wellington New Zealand in the mid to late 1970's and is now a practising lawyer and musician in South Australia.
Bob Bobrige brings a new voice to Coast. As you can see from his pic this man has a lot of fun bringing you. Listen to Bob every Tuesday afternoon on Drive between 4.00 and 6.00pm. Professionally involved in Bands and Groups from the 60s through to the 90s and loving every minute of it. Particularly enjoy Country but love any music with a tune. Look forward to sharing my passions with the dedicated listeners of Coast FM........ Another Bob's worth , worth every penny!!!!!
Hi everybody, I'm Brenton Chappell and I've been with Adelaide's 88.7 Coast FM since 2013. My interest in music began in the late 60s with a 45 rpm record called "Penny Lane" by the Beatles. This interest rapidly grew one day when I was listening to "Turn Up Your Radio" (because that's all we had, a radio!) by the Master's Apprentices, followed quickly by my learning to use dad's reel to reel tape recorder for all my favourite tunes. I hope you will join me on Adelaide's 88.7 Coast FM on alternate Fridays at 10.00pm as I provide classic rock from the 60s, 70s and 80s. Otherwise I am just playing music and I'd rather play it for you.
Hi, I'm Brian. The name of our show is "The Penny Arcade". As a baby-boomer, the music I enjoy listening to and playing on air is from the '50s, '60s & '70s. My favourite artist is Bobby Darin. My involvement with Coast FM started on 31st August 2003. My biggest thrill so far has been interviewing Connie Francis (twice) and Barbara Orbison. Programming the show takes me about 3 to 4 hours (better then watching the idiot-box) and I love every minute of it. If you haven't listened to the show yet please do so and let us know what you think as your input is very much appreciated. Catch you every Friday at 2.00pm for The Penny Arcade.
Brian.
Jay J. became interested in music at a very young age. He has had over 40 years as a solo artist and playing in bands on the Australian Country Music Circuit. He has always had a passion for radio and enjoys all the classic hits from the 50's to the 90's together with all forms of country music, such as Traditional, Country Rock, Bluegrass, Country Gospel and Modern or 'new country'. He has been married to Debi for over 30 years and lives in the Southern suburbs of Adelaide. You can join him every Tuesday at 2.00pm for " At the Crossroads " on Adelaide's Coast FM 88.7. He would love to hear from you, so why not give him a call on 8371 1000 and say hello.
Lynette is the current secretary of the board and has recently returned from Tasmania Her first ever show was 3 hrs of disco! The mixed bag was the name of her previous program and with a new look and feel and fresh off the island her new program is called "The Wright Mix" so do tune in and turn it up every Friday early morning (midnight to 3am ) I can guarantee she will play one or two of your favourites from 1960 through to 2000 to get your toes tapping! You never know what song has fallen off the shelf and into the CD rack
Phil has been a qualified presenter here at Coast-FM for around 15 years. Phil's large collection of music from '50s to the '70s keeps him busy listening and selecting music for his shows. Phil loves his rock and roll and can be seen at most venues around town as he sometimes dances with several women at once. Now that is real talent!!! Phil is the "Caretaker" of Saturday's Roadhouse program on at 2.00pm.